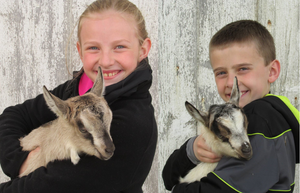 Fourth Century Farms is a family-owned business based in Pennsylvania's beautiful Cumberland Valley. We are taking this opportunity to share our hand-crafted goat milk soaps with you.  Each bar of our soap is hand blended, hand poured and air dried to ensure the highest quality bars possible. Each bar includes over one ounce of goat milk.


In 2009 we created the soap out of necessity to help with eczema which several of our family members were suffering with. In 2013 we decided to share our soaps with others by selling at local craft shows and events.  We had such a positive response from our customers that we started a wholesale business and are currently sold in many stores throughout several states across the country.



Scents of the month
Each month there is a special scent being sold. For September those scents are:

Coconut Lime Verbena
Aloe Vera Cucumber
Have any recommendations?
If there are any scents or products you would like to see added to our collection contact us at info@fourthcenturyfarms.com
We'd love to hear from you!